Book & Media Studies is an exciting and unique undergraduate major or minor program offered at St. Michael's College within the University of Toronto that prepares students for a future in all things related to books and media!
For more information, learn more by checking out the Book and Media Studies program website or the Faculty of Arts & Science Calendar Listing.
We are the Book & Media Studies Student Association!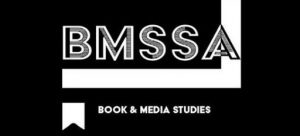 The Book and Media Studies Students Association (BMSSA) represents all students within the University of Toronto in the Book & Media Studies program as well as students who have taken a class from the program.
The program is divided into two streams. The 'Book' stream covers topics such as manuscript and book production, internet publishing, book illustrations, advertising, censorship, and the ways readers use and enjoy books.
The 'Media' stream investigates the development of mass media including everything from radio to television to more recent forms of mass communication including global telecommunications, social media, and the World Wide Web.
The Book & Media Studies Student Association (BMSSA) holds academic and professional development events, advocates for new courses and advancements to the program, as well as provides social opportunities for students to connect with the Book & Media Studies community. To learn more about us, read the BMSSA Constitution!
Follow us on Facebook, Twitter, and Instagram to hear about all of our events!