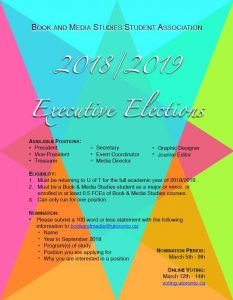 Dear Book & Media Studies students,
The Book & Media Studies Student Association (BMSSA) 2018/2019 Elections are upon us! If you're interested in joining BMSSA, please consider applying. The available positions are:
President
Vice-President
Treasurer
Secretary
Event Coordinator
Media Director
Graphic Designer
Journal Editor
The nomination period is open from 
Monday, March 5 at 10:00 am
 to 
Friday, March 9 at 11:59 pm
. Voting will occur online at voting.utoronto.ca from 
Monday, March 12 at 12:00 pm
 to 
Wednesday, March 14 at 5:00 pm
.
Eligibility:
Must be returning to U of T for the full 2018/2019 academic year
Must be a Book & Media Studies student as a major or minor, or enrolled in at least 0.5 FCEs of Book & Media Studies courses during the 2018/2019 academic year
Can only run for one position
Please submit a 100 word or less statement with the following information to bookandmedia@utoronto.ca:
Name
Year of study in September 2018
Program(s) of study
Position you're applying for
Why you're interested in your chosen position
Follow our event page for updates
here
.
If you have any questions or concerns, please email the BMSSA team at bookandmedia@utoronto.ca.
Best wishes,
Liana Ramos
President of Book & Media Studies Student Association (2017-2018)